Who is Your Professional Home Organizer?             
My name is Susan Finer. My career as a professional organizer is a natural outgrowth of my work in art and the helping professions.
Through my art, I have always sought to create order out of chaos. The same inclination shapes my work as an organizer. I am skilled at visualizing and designing home environments that reflect my clients' needs and tastes.
During my years as a teacher and librarian, I learned to listen well and to transfer skills with enthusiasm, humor, and clarity. Working in these professions also taught me how to become a top-notch resource-finder. If I can't do something for you, I can easily find the best people to get the job done!
When I worked as a massage therapist, I helped my clients to find calm in their stressful lives. My goal as an organizer is similar: helping my clients find relaxation, joy, and productivity in their lives.
What is my Approach to Home Organizing?
My approach to organizing is based on collaboration. While I have a great deal of expertise, you have a specific set of needs and wishes for your home. Based on your goals, preferences, ideas, time frame and budget, I can design a plan that works for you.
Why should you choose Order and Flow?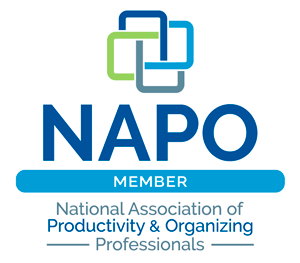 Order and Flow can work for you because of my ability to listen carefully to your needs and wishes, visualize and implement elegant and functional organizational systems, and teach you important skills in maintaining these systems – in order to create a home that allows you to live your best life.
I am a member of the National Association of Productivity and Organizing Professionals, and I abide by their code of ethics.